The Zendesk app helps your sales staff stay up-to-date with any issues that customers may have by making current and past tickets available within Upsales. Note that you'll want to make sure that your customers in Zendesk are set up as
organizations
that match the customer name in Upsales.
The Administrator of the account activates the Zendesk app and sets up the integration.
Activating the Zendesk Integration
To activate the Zendesk app, complete the following steps:
Select the

Settings

icon in the upper right corner of your Upsales screen.

Select

Apps

.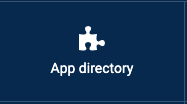 From the Apps list, select

Zendesk

.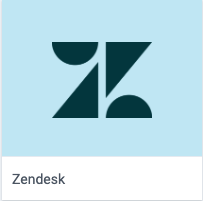 On the

Zendesk

screen, select

Activate

.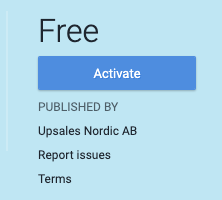 The
Settings
tab of the
Zendesk
screen opens.
Setting Up the Zendesk app
The Zendesk integration requires a few different pieces of information that all work together to allow Zendesk and Upsales to communicate your customer ticket information. Your Zendesk administrator can help you locate the required information.
To set up the Zendesk integration, complete the following steps:
Generate an

API token

in Zendesk and copy it. On the Upsales

Zendesk

screen, paste the

Zendesk API Token

.

Enter the email of the user who generated the API token in the

Zendesk API Email address

field

Enter your

Zendesk API URL

. It will be at your Zendesk support domain, such as:
Enter your

Zendesk Subdomain

. The

subdomain

is a unique identifier that you can identify from the URL

(i.e.,

https://[yoursubdomain].zendesk.com

) or by checking the Zendesk Admin home page.

Enter the

Number of days

to search in Zendesk for applicable tickets. The default is 30 days.
Using the Zendesk Integration
Stay up-to-date with any customer issues by viewing open or closed tickets for that customer.
When you have set up the Zendesk Integration, a company's account page will show the Zendesk widget on the left side of the screen if both of the following conditions are met:
The Company's name in Upsales matches an organization name in Zendesk

The Company has open tickets or closed tickets in the time frame you defined when setting up the Zendesk integration.
The Zendesk widget shows the number of Open tickets and the number of Closed tickets.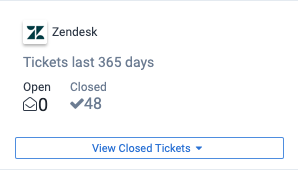 To view a ticket, select the
View Open Tickets
or
View Closed Tickets
drop-down list and select a specific ticket.
The ticket opens so that you can view the details of the conversation with both the agent and customer responses.