| | |
| --- | --- |
| | Find new customers all over the world. Enrich company data with employee growth rate trends, revenue trends, stock exchanges and much more. |
Find new customers all over the world
In order to be successful in the global market, you need to be able to process new countries and regions effectively. With Bisnode international, you get access to the worlds most comprehensive company database. Find new customers all over the world and enrich company data with revenue, number of employees, turnover, company status and much more.
Monitoring
Enable monitoring to a customer to get a year worth of automatic updates. Get deeper insights with data like employee growth rate trends, revenue trends, stock exchanges, company family tree and much more.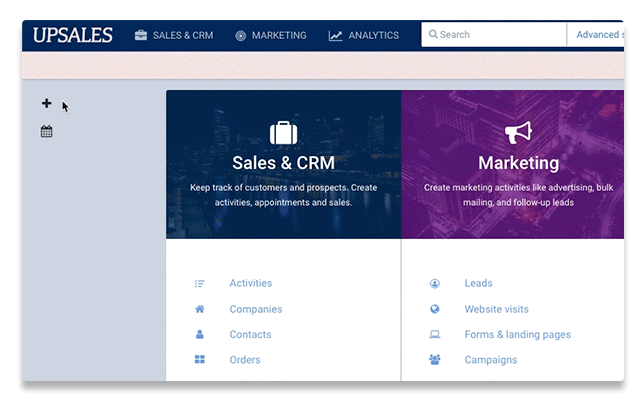 Install the app
Admins of your Upsales account can:
Head to the settings page in Upsales and click "Apps".
Find The Bisnode International app
Activate the app and add the countries you would like to search in.
Done
How to add a company with Bisnode data
When adding new companies to Upsales you now have the option of searching and downloading the company data to your Upsales account.
How to add a company with Bisnode data:
Click the plus-icon in the top left corner of Upsales and select 'Company'.
Type the name of the company you'd like to add
The results show you matching companies already in your account and matches from your different data sources, like Bisnode International.
You can select to add the data to an existing company or create a new one with the information.
After selecting one of the two options above you are automatically redirected to that company.