When using the Upsales Gmail Chrome extension, you can create an email in Gmail and sync the information to Upsales.
Log all incoming mail -> set up forwarding of emails from your user settings
Log all outgoing mail -> Use the Chrome extension and set it to forward everything
Log specific emails -> Use the Chrome extension

You cannot manually forward an email to email@upsales.com, you must set up a rule according to the instructions below.
This article covers:
What happens when you sync
Send emails from Upsales using your Gmail account. Sent emails will then appear in your sent folder inside Gmail. Please note: opening a sent email in your Gmail means Upsales registers this an open event.
Log your emails from Gmail into Upsales (with the Upsales Gmail Chrome extension)
Track recipient actions. See if they've opened or clicked the email in Upsales

Speed up and scale your prospecting by customising and sending one email to up to 100 recipients (bounces appear in Gmail, not Upsales)
Activating the Gmail app in Upsales
Click App directory:




From the Apps list, select Gmail
On the Gmail screen, select Activate:




Google will ask you to allow Upsales to send emails on your behalf

Click Allow
You're now ready to use the Gmail app with Upsales.
Installing the Chrome extension
Want to sync information from emails created in Gmail? Complete the following steps:
Go to the Chrome Web Store to add Upsales Gmail Sync:

Select Add to Chrome.
Select Add extension.
Check the extension is active – otherwise emails won't sync
Now you need to connect your Gmail account with Upsales. Follow the steps below.
Connecting your Gmail account to Upsales
The final part of setting up Gmail sync is to pair your Gmail account with your Upsales account.
Before you connect your account make sure you have activated the Gmail app in Upsales. Also make sure your Upsales email address is the same as your Gmail email address.
Click Gmail (under My profile) in your Upsales sidebar:




Toggle on the 'Enable the Gmail Chrome extension' button and copy the pairing code:


After installing the Upsales Gmail Mail Sync Chrome extension, go to your Gmail page and refresh
Click the Upsales logo:



Enter the pairing code from Gmail:




Click Connect
For the Chrome Extension to work, you have to turn on your sync in Chrome. The Google account you are logged in with in Chrome must be the same as the one you paired with Upsales.
Using Gmail Mail Sync
Within your Gmail account you can now:
Create a new contact and company
Match a contact to an existing company
View the company card
Log an email as a closed activity
Use forwarding to automatically log incoming emails
Emails are logged by default. However, you can change this and prevent logging of:
How to prevent specific emails being logged
Open the email and untick the box next to Log email. To log an old email, open it and click Log email: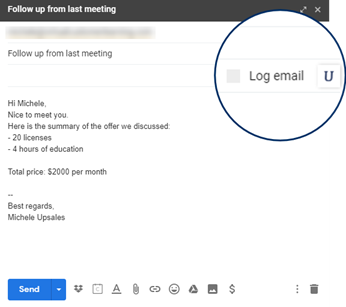 How to prevent emails from specific people or domains being logged
Click the Upsales icon in Gmail
Add the email address or domain in the field under Enter emails you want to exclude from logging
Click Save:

How to prevent all emails being logged by default
Click the Upsales icon in Gmail
Untick the box next to Log emails by default
How to sync incoming emails
Open Gmail, click Settings → More settings:



Click the Forwarding and POP/IMAP tab
Select Add a forwarding address, add email@upsales.com and click Next:




Click Proceed
Wait a few minutes and Upsales will confirm the sync. If no confirmation appears, exit and reopen Gmail. If the sync isn't confirmed, click Re-send email:


That's it! The sync should now be working.
Now select Forward a copy of incoming mail to (instead of the default Disable forwarding), and in the fields add email@upsales.com and keep Gmail's copy in the inbox (so emails aren't archived or deleted when forwarded):