When emailing your contacts outside Upsales you can make these emails show up in Upsales.
Simply add crm@upsales.com in the BCC or CC field of your email: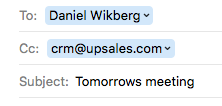 Emails sent to crm@upsales.com need to be sent from a Upsales user with their email address set in the profile.
How to sync email attachments to Upsales
You can use the Outlook Add-in or Gmail sync apps provided by Upsales.