When emailing your contacts from outside of Upsales there is a way to make these emails show up in Upsales.
This is done by adding crm@upsales.com in the BCC or CC field of your email. This way the contact you are emailing won't see the extra recipient.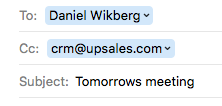 For emails sent to crm@upsales.com to be handled correctly, they need to be sent from a Upsales user with that email address set in the profile. Your recipient won't know about this even if your sending email is not a correct one.
Will the email attachments be synced to Upsales?
No, unfortunately. To sync your email attachments use the Outlook Add-in or Gmail sync apps provided by Upsales.