In Form Settings, you can change the internal form name, customize the after-submit page, set up form actions and enable custom scripts.
By customizing the after-submit page you'll create a more personal experience, and be able to present the visitor with custom content such as a video or a downloadable whitepaper.
Setting up form actions can be a very effective way to keep track of leads coming from form submits. You can, for example, assign leads to a specific user or role.
This article will cover:
To find Form Settings, click the Settings tab or Settings button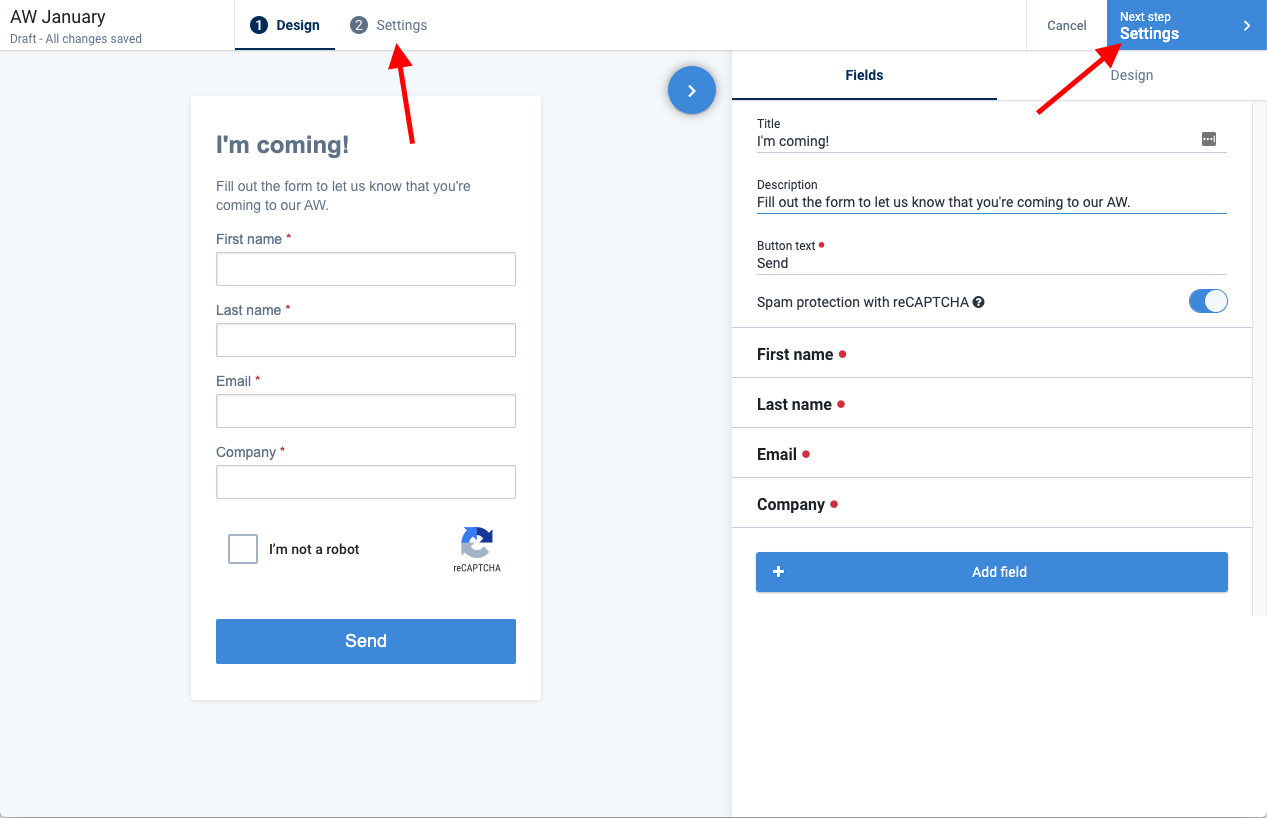 Change internal form name
If you wish to change the internal form name, simply type a new name in the box.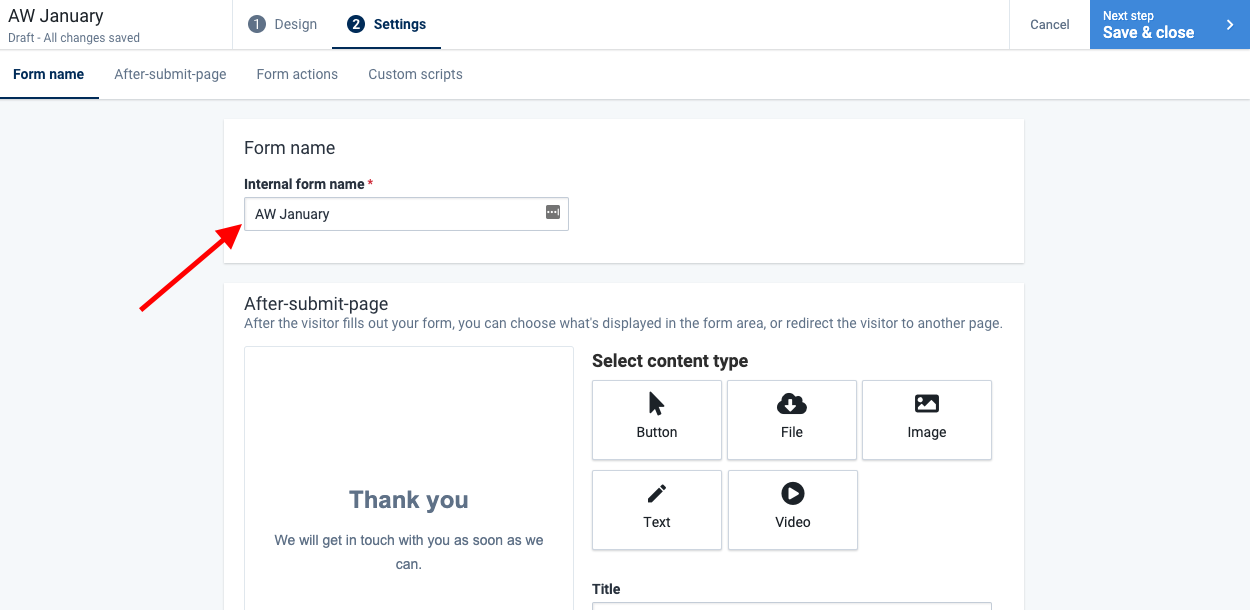 Customize After-submit page
After a visitor has submitted a form, they will arrive at an After-submit-page (also known as a Thank you-page). You can edit the heading of this page, the paragraph text and you add a content type that will show together with the text. The available content types are:

Button: Add a button with custom text and link
File: Let the visitor download a file by clicking either a button or and image.
Image: Show an image
Text: add as much text as you'd like with a rich text editor
Video: Let the visitor watch a video
To customize the After-submit page, go to After-submit page settings by clicking the tab or scrolling down.


Edit the title / heading and paragraph text by editing the text in the text fields.


Select content type by clicking on the content type you wish to add.


Locate your content and add it.


You're done!
Redirect to another after-submit page
You can choose to have your own after-submit page.
To choose your own after-submit page. Click the Redirect to another page toggle, under After-submit page.


Enter the URL of the page you wish to redirect to.


Form actions
When a visitor has submitted a form, you can add actions that will take effect when this happens.
Go to Form actions by clicking the Form actions tab or scrolling down.


Marketing score will always to added to a contact who submitted a form, but you can change the score if you wish. To change the marketing score, click the points.


To add form actions, click Add more actions





Choose an action. You can choose among the following actions:

Send notification email: Enter the email addresses to users who should get an email when a form has been submitted. You can also edit the subject and content, just like in an ordinary email editor.

Assign: Choose an Upsales user or role that will get assigned the lead

Update companies: Choose among many company settings that can be updated for a company that submits the form.

Update contact: Choose among many contact settings that can be updated for a contact that submits the form.

Send webhook: Add custom webhook to take action after form submit

Create activity: Create an activity for a Upsales user after form submit

Form submit: Send a previously created e-mail template to contact who submitted the form.


You can add one of each action.
Custom scripts
Google Analytics and other services can be added to the form.
To add custom scripts, go to Custom scripts under Settings > Custom scripts


Add any customs scripts by pasting them in the black box.


For more information about custom script and the different publishing options, read more here
Save your form
When you're done, save your form.
Saving the form is the last step. The Save & Close button will appear in the upper right corner when you're in the Settings tab.





Click Save & close

Once you've saved your form, you'll be brought to the Form Dashboard. This where you view statistics for the form, and configure the Publishing Options.