With Upsales Phone you can make calls from within Upsales. It's done by connecting a phone service provider such as Telavox or 3frontOffice.
This article covers:
Supported Phone providers
Administrators: How to connect a phone provider
Click App Directory:




Locate your preferred phone service, either by scrolling or clicking the Search bar and choosing Phone services




Click Activate
Configure the app
Ask your individual users to follow the instructions below to activate and connect their own account
Users: How to activate Upsales Phone
Make sure your Administrator has completed the steps above
Click Settings → My profile
Click your phone app provider:




Click Activate
Add your user credentials
Click Save
Congratulations, Upsales Phone is good to go!
How to make a call with Upsales Phone
The soft phone window opens:


After the call has connected, you can link the following options to a contact:


Activities = create new activity
Appointment = create new appointment
Opportunities = create new opportunity
Sales = create a new sale
Send email = create new message
After the call is completed, similar options are available: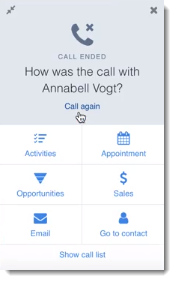 Call again = call same contact
Activities to create new activity
Appointment to create new appointment
Opportunities to create new opportunity
Sales to create new sale
Send email to create new mail message
Go to contact to open Contact screen
Show call list to view My Phone Calls screen
How to view phone calls
Click Sales & CRM → Calls:




Select Phone calls.
You can now work with your list
Calls to contacts can also be recorded and listened to. Open a contact's activities screen, click the Phone calls list, and select the audio file.
How to view phone call reports in Upsales Insights
Click Analytics → Upsales Insights:




Select the Telephone Dashboard from the Dashboards drop down list.
The dashboard gives you data on:
Calls made by location
Calls made by sales reps. The chart also shows the total number of minutes per sales rep, the number of appointments booked, the pickup-to-call percentage and the call-leading-to-meeting percentage.
Calls by job title. Toggle the legend at the bottom of the chart to view calls by number of calls or number of minutes/hours.