The contribution margin shows profit per product group or order. The calculation is:
Selling price - Purchase cost = Contribution margin

Activate the contribution margin (CM) sales model, and a Cost tab is added to your products. You can add this to orders and opportunities to calculate CM.
This article covers:
How to set cost for a product
Click Settings → CRM → Products:


Click the product you want to edit
You have two tabs: Price and Cost:

Price: The default selling price that the customer should pay
Cost: How much your company paid for the product
When you've set the price and cost, click Save.
Show CM or actual order value – how to choose
You can choose which sales figures display by default.
Click Settings → Account → Account settings: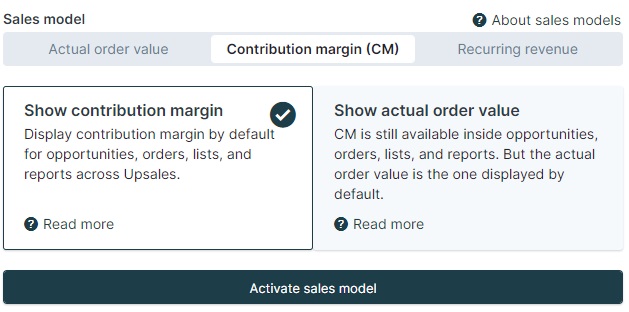 Where CM appears in Upsales
Sales board

Column summaries
Opportunity cards

Opportunities
Orders
Subscriptions
Reports
Target graphs (if a CM target is activated)
How to set CM targets for your users
First, make sure the products you sell have a purchase price in Upsales. You can now set CM targets for your users.