Contribution margin (CM), or dollar contribution per unit, is the selling price per unit minus the variable cost per unit. "Contribution" represents the portion of sales revenue that is not consumed by variable costs and so contributes to the coverage of fixed costs.
In this article, you can learn how to enable contribution margin and displaying it on opportunities, orders, subscription, and on the sales board.
How to enable contribution margin
Click Settings → CRM → Products.
Here you can add new and edit products as well as enabling contribution margin.
By setting the toggle Contribution margin (CM) to active, you can add the Purchased at cost when you add new or edit products: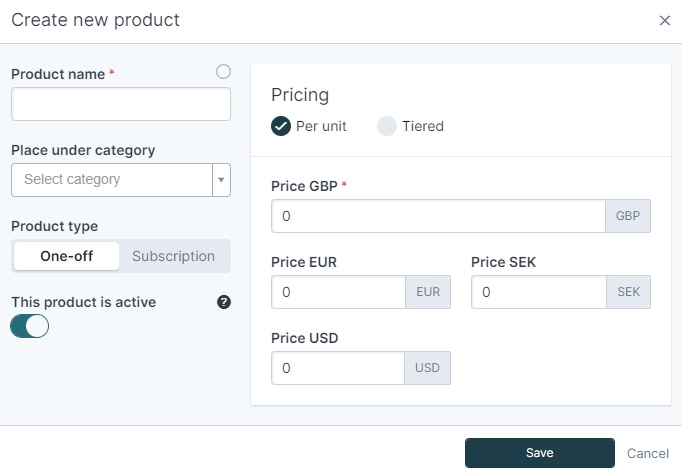 By adding a purchase cost, you can then display the calculated contribution margin when adding an:
For example;
Let's say we add a product called "Computer A". We set the price at 1 000 SEK and a purchase cost of 500 SEK. Then our contribution margin is 500 SEK.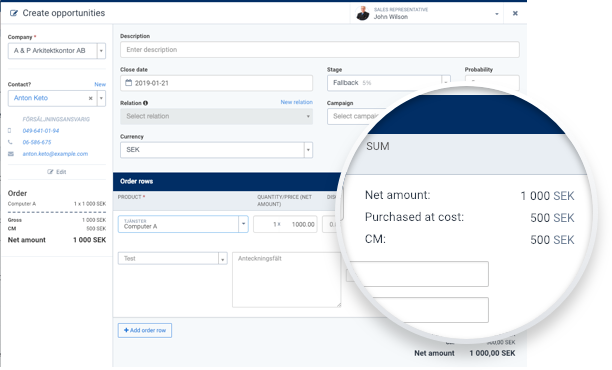 When viewing an opportunity, order or subscription you see the CM or contribution margin on each order row and the CM for the whole order below all order rows as well as in the sidebar.
Showing CM on the sales board.
You can set the column headers on the sales board to display the total CM for that phase instead of the total sales value. To do this go to Settings → CRM → Sales board. And then set the "Use contribution margin in the sales board" to active.
You can also show the CM on each deal card.
Read more about how to change the appearance of the deal cards here.