Use flows to create automated steps for contacts in your segments. Set these to trigger based on contacts' behaviours.
To create a flow you need at least one segment defined
This article covers:
When to use a Flow
Flows are great for lead nurturing, as well as customising content for customers. For example:
Sending emails with calls to action for your online campaigns
Personalising follow-ups based on what leads click on in your emails
Flow categories
Flows are built using three categories:
Actions
Upsales can complete an action for you, such as sending emails or updating contact or company information
Behaviours
Contacts react to actions with behaviours, such as clicking a link or filling out a form
Snooze
Include delays before completing actions, such as waiting five days to send a follow-up
How to create a new flow
Click Marketing → Segments → Flows:




Click +New flow from the top of the Flows list:




Add a name, choose which Flow to connect the Segment to, choose the time to send emails, including time zone and whether to send at weekends:




Upsales will show a summary of how Flows work. You can click to never show again, or be reminded next time:



Click the + to start adding Flow steps:





If you remove a step that has steps attached, all attached steps will be removed

Start by adding an Action (what will happen inside Upsales):




Add a Behaviour (how the prospect responds, so should come after an Action):




You can now branch the Flow. Add an Action if the Behaviour happens (yes), and add an Action if the Behaviour doesn't happen (no)




You can also add a Snooze (delays the Action):




When you've added all the steps, click Save draft:




Click the status dropdown and then click Activate flow:





If any contacts no longer meet the Flow criteria, Upsales removes them from the Flow. If the contact meets the criteria again, they join the Segment at the place where they were removed.
How to pause a Flow
The status dropdown is also where you can click to pause the flow. All contacts stay paused in the Flow until you activate it again: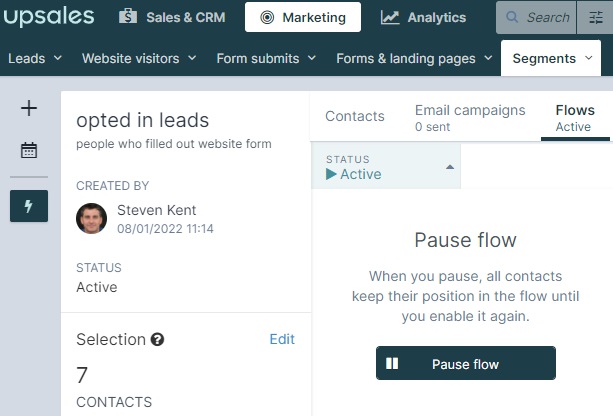 How to create a new flow using a template
Click Marketing → Segments → Flows:




Click +Create flow from the top of the Flows list:




You have four template types to choose from:
- Welcome new customers
- Warming up cold not-yet-qualified leads
- Contacting website visitors
- Targeting customers for upselling




Click a template to make your choice, or click Custom flow if you prefer to create from scratch
Now decide the contacts who will be part of the Flow. Depending on the template, you'll have different ways to choose. For example, for a template welcoming new customers, click the time period to define a new customer – 7, 14, 30 or 90 days:



Click Settings:




Name the Flow and set the times it should be active (click the dropdown arrows to adjust and search):




Click Edit flow:




Depending on the template you choose, the steps will appear
If a step includes sending an email, choose the email template and then click +Add behaviour:




You can now choose the behaviour, such as Opened email or Clicked link in email:




You can then define the behaviour:




To add a step, hover on the line that connects steps and click Add:




To remove a step, hover over the step and click the Trash icon:


How to organise Flows lists
Click Marketing → Segments and then click the Flows tab:




Click the dropdown to view:

My flows
Opens flows you've created
All flows
Opens all flows already created


Here you can view and toggle between Segments and Flows lists:


Use the Search bar and filters to find lists:

To edit your Flows list, you can:
You can also save lists to share with other users and roles: