Advanced field rules for opportunities allow you to decide when custom fields are required, based on where you are in the sales process, to help you streamline and unify your sales process across the entire sales team.
During a complex sales process, you may not know all of the details required for an order until you move further along the process. For example, if your process assigns a customer number when the order is complete, you won't know it yet when a team member is entering the new opportunity.
Now you can set the field as mandatory for a specific stage in your sales process. Then, when an opportunity is moved along the sales board, Upsales will request the mandatory information before the opportunity changes stage.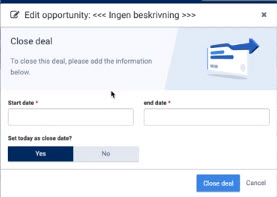 Note: To set advanced field rules enable the Advanced order Logic add-on
To set fields as mandatory based on stage, complete the following steps:
On the Order fields screen, create a new field or edit an existing field.
Make sure that the Always required toggle is turned off.
Select the stage at which the field should be mandatory from the Required on stages drop down list.
Select Save.