The Zoom app allows you to create Upsales webinar events and track the status of participants in Upsales.
The Administrator of the account activates the Zoom Webinar for Upsales app and sets up the integration.
To activate the Zoom Webinar for Upsales app, complete the following steps:
Select the Settings icon in the upper right corner of your Upsales screen.

Select App directory.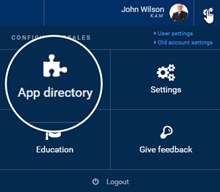 From the Apps list, select Zoom Webinar for Upsales.

On the Zoom screen, select Activate.

Select Accept terms to continue.

Select Authorize to connect your Zoom account.
Sign in with your Zoom user name and password. Select Sign In.
Now you can create events for your webinars. Your event resources will automatically include the Zoom webinar link, and the status of any webinar attendees will be automatically updated in Upsales after the webinar.