In Upsales you can create specific sales processes to match your workflow and business. Within these processes, you can incorporate the stakeholders (decision-makers).
This article covers:
What are stakeholders?
Stakeholders are decision-makers for your opportunities. When identified, the chances of closing are greatly improved. They also have the power to halt a deal.
For example, if your organisation has a complex sales process you might need to get several people, or stakeholders, onboard.
Classifying by job titles or roles
Upsales gives you two ways to define decision-makers in your Sales process:
How to identify stakeholders
Be direct and ask the prospect: "Are you the one having the final decision on this?"
Ask who else is involved in the final decision, and involve them in your discussions
Record the stakeholders in your typical deals
Find out the questions and FUDS (Fears, Uncertainties, Doubts) they have during your sales process.
How to enable stakeholders in Upsales
Click Settings → CRM → Sales process:


Under Sales process, click Create new:




Give your process a name, and choose if it's for specific users or roles. I

f no specific user or role is chosen, the sales process applies for all users.






You'll then see the Sales process checklist. Click the toggle to turn on Identify decision-makers:




Click Stakeholder roles and you'll see the default stakeholders.



Default stakeholders (and how to edit them)



These are based on the MEDDIC sales process (Champion, Economic Buyer, Influencer, Technical Decision Buyer). If you have Sales process Pro, you can edit the names and select which stage they should appear.
Once happy with your initial settings, click Save



If you delete a stakeholder category, any contact that is placed under that category in an opportunity will be removed from the opportunity.
How to work with stakeholders on an opportunity
After stakeholders are enabled, the categories are listed on the left-hand side in the opportunities window.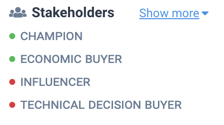 The categories are marked red or green depending on if contacts are attached to the category or not.
Click Show more to show the complete list of contacts under each category. Click Show fewer to collapse the list and view each category only.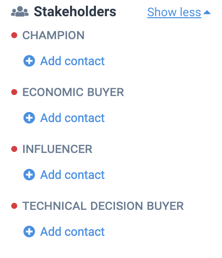 To add a new contact to a stakeholder category, simply click Add contact.
The same contact can be added to several stakeholder categories
If you have several sales processes, click the dropdown in the Sales process field to choose:

If you only have one sales process set up, this field will not be visible in your opportunities.