Simplify your users' workflows with document templates for proposals, orders and meeting protocols.
Tags
Document templates allow you to extract dynamic data from the system into a static document using tags.
For example, an appointment summary could contain the customer name, address, postcode and the activity date among other things. To fetch that data you can use tags and place them within your static document.
For example; writing Cl_Name in your document template will render it as the company name it's attached to. View available tags below
Tags for custom fields
Most standard fields have tags that can be used in a document template, and in custom fields you create for your account. Tags for these fields should look something like this: Cl_Custom_4
Here's how to view tags available in your account:
Click Settings → CRM → Document templates
Click 'Show list of available tags':




A list of all default tags combined with the fields you've created is shown.
Simply copy & paste into your document template.
How to add fields to a document
First, locate the tag you would like to add to your template. Put the marker where you want to add the tag to your document. Press "Insert", followed by "Quick parts" and then "field" as shown in this picture: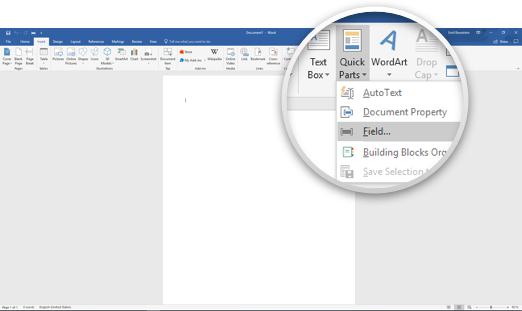 Then find "MergeField" in the list of field names and add your tag to the field name as shown in this picture where "Cl_Name" I added: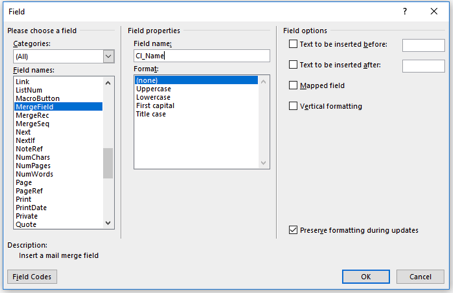 Press "OK" and you're done.
You can also add JPG images, such as your logo, in the header.
Uploading your document
1. Click "New template" to upload your document:



Note: Document templates only supports *.doc file formats.
2. Choose:
Available document tags
Company basics
| | |
| --- | --- |
| Company: ID | Cl_ID |
| Company: Name | Cl_Name |
| Company: Phone | Cl_Phone |
| Company: Fax | Cl_Fax |
| Company: Webpage | Cl_Web |
| Company: Notes | Cl_Notes |
| Company: User | Cl_User |

Company addresses
| | |
| --- | --- |
| Postal address: Street | Cl_Address |
| Postal address: Post code | Cl_Zipcode |
| Postal address: City | Cl_City |
| Postal address: State | Cl_State |
| Postal address: Country | Cl_Country |
| | |
| Visit address: Street | Cl_Address_Visiting |
| Visit address: Post code | Cl_Zipcode_Visiting |
| Visit address: City | Cl_City_Visiting |
| Visit address: State | Cl_State_Visiting |
| Visit address: Country | Cl_Country_Visiting |
| | |
| Invoice address: Street | Cl_Address_Invoice |
| Invoice address: Post code | Cl_Zipcode_Invoice |
| Invoice address: City | Cl_City_Invoice |
| Invoice address: State | Cl_State_Invoice |
| Invoice address: Country | Cl_Country_Invoice |
| | |
| Delivery address | Cl_Address_Delivery |
| Delivery address: Post code | Cl_Zipcode_Delivery |
| Delivery address: City | Cl_City_Delivery |
| Delivery address: State | Cl_State_Delivery |
| Delivery address: Country | Cl_Country_Delivery |
| | |
| Other address: Street | Cl_Address_Other |
| Other address: Post code | Cl_Zipcode_Other |
| Other address: City | Cl_City_Other |
| Other address: State | Cl_State_Other |
| Other address: Country | Cl_Country_Other |

Contacts
| | |
| --- | --- |
| Contact ID | Co_ID |
| Contact Name | Co_Name |
| Contact Phone | Co_Phone |
| Contact Mobile phone | Co_Cellphone |
| Contact Email | Co_Email |
| Contact Title | Co_Title |
| Contact Notes | Co_Notes |

Dates
| | |
| --- | --- |
| Today | Today |
| Today +10 days | Today_Plus_10 |
| Today +15 days | Today_Plus_15 |
| Today +20 days | Today_Plus_20 |
| Today +30 days | Today_Plus_30 |
| Today +38 days | Today_Plus_38 |
| tag.general.lastday | LastDay |

Activities & appointments
| | |
| --- | --- |
| Activity/appointment: ID | Act_ID |
| Activity/appointment: Date | Act_Date |
| Appointment: Time | Act_Time |
| Activity/appointment: Description | Act_Description |
| Activity/appointment: User | Act_User |
| Activity/appointment: Type | Act_Type |
| Activity/appointment: Notes | Act_Notes |
| tag.activity.classic.contact | Meeting_Contact_Names |
| Campaign name | Project_Name |
| Campaign quota | Project_Quota |
| tag.project.prefix.quotanc | Project_Quota_NC |
| Campaign Start date | Project_StartDate |
| Campaign End date | Project_EndDate |
| Campaign Notes | Project_Notes |

Orders
| | |
| --- | --- |
| ID | Order_ID |
| Description | Order_Description |
| Notes | Order_Notes |
| Date | Order_Date |
| Close date | Order_Close_Date |
| Order total value | Order_Total |
| tag.order.ordervalue.nc | Order_Total_NC |
| tag.order.ordervalue.vat25 | Order_Total_VAT25 |
| tag.order.ordervalue.vat25.nc | Order_Total_VAT25_NC |
| tag.order.ordervalue.vat12 | Order_Total_VAT12 |
| tag.order.ordervalue.vat12.nc | Order_Total_VAT12_NC |
| tag.order.ordervalue.vat6 | Order_Total_VAT6 |
| tag.order.ordervalue.vat6.nc | Order_Total_VAT6_NC |
| tag.order.osc.id | OCR_ID |
| tag.order.osc.name | OCR_Name |
| tag.order.osc.address | OCR_Address |
| tag.order.osc.zipcode | OCR_Zipcode |
| tag.order.osc.state | OCR_State |
| tag.order.osc.phone | OCR_Phone |
| tag.order.osc.fax | OCR_Fax |
| tag.order.osc.web | OCR_Web |
| tag.order.osc.notes | OCR_Notes |
| tag.order.osc.user | OCR_User |
| tag.order.products.tablestart | TableStart_Products |
| tag.order.products.tableend | TableEnd_Products |
| User full name | Order_User |
| User email | Order_User_Email |
| User phone | Order_User_Phone |
| User mobile phone | Order_User_CellPhone |
| User title | Order_User_Title |
| User address | Order_User_Address |
| User post code | Order_User_Zipcode |
| User state | Order_User_State |
| Product name | Prod_Name |
| Product quantity | Prod_Quantity |
| Product quantity with decimals | Prod_Decimals_Quantity |
| Product price | Prod_Price |
| tag.order.product.price.nc | Prod_Price_NC |
| tag.order.product.sum | Prod_Sum |
| tag.order.product.sum.nc | Prod_Sum_NC |
| tag.order.product.category.name | Prod_Cat_Name |
| Total discount | Total_Discount |
| tag.order.discount.nc | Total_Discount_NC |
| Product discount | Product_Discount |
| tag.order.product.discount.nc | Product_Discount_NC |
| tag.order.product.listprice.sum | Product_ListPrice_Sum |
| tag.order.product.listprice.sum.nc | Product_ListPrice_Sum_NC |
| Order listprice | Order_ListPrice |
| tag.order.listprice.sum.nc | Order_ListPrice_NC |
| tag.order.product.discount.percentage | Product_Discount_Percentage |
| tag.order.discount.percentage | Total_Discount_Percentage |
| tag.order.quantity | Order_Total_Quantity |
| tag.order.product.listprice | Prod_ListPrice |
| tag.order.product.listprice.nc | Prod_ListPrice_NC |
| tag.order.product.vat25 | Prod_Sum_VAT25 |
| tag.order.product.vat25.nc | Prod_Sum_VAT25_NC |
| tag.order.project.name | Project_Name |
| tag.order.project.quota | Project_Quota |
| tag.order.project.quota.nc | Project_Quota_NC |
| tag.order.project.startdate | Project_StartDate |
| tag.order.project.endate | Project_EndDate |
| tag.order.project.notes | Project_Notes |
| tag.order.listprice | Total_ListPrice_Sum |
| tag.order.listprice.nc | Total_ListPrice_Sum_NC |
| tag.order.idDescription | Order_ID |
| tag.orderDescription | Order_Description |
| tag.order.notes | Order_Notes |
| tag.order.date | Order_Date |
| tag.order.closedate | Order_Close_Date |
| tag.order.ordervalue | Order_Total |
| tag.order.ordervalue.nc | Order_Total_NC |
| tag.order.ordervalue.vat25 | Order_Total_VAT25 |
| tag.order.ordervalue.vat25.nc | Order_Total_VAT25_NC |
| tag.order.ordervalue.vat12 | Order_Total_VAT12 |
| tag.order.ordervalue.vat12.nc | Order_Total_VAT12_NC |
| tag.order.ordervalue.vat6 | Order_Total_VAT6 |
| tag.order.ordervalue.vat6.nc | Order_Total_VAT6_NC |
| tag.order.osc.id | OCR_ID |
| tag.order.osc.name | OCR_Name |
| tag.order.osc.address | OCR_Address |
| tag.order.osc.zipcode | OCR_Zipcode |
| tag.order.osc.state | OCR_State |
| tag.order.osc.phone | OCR_Phone |
| tag.order.osc.fax | OCR_Fax |
| tag.order.osc.web | OCR_Web |
| tag.order.osc.notes | OCR_Notes |
| tag.order.osc.user | OCR_User |
| tag.order.products.tablestart | TableStart:Products |
| tag.order.products.tableend | TableEnd:Products |
| tag.order.user.name | Order_User |
| tag.order.user.email | Order_User_Email |
| tag.order.user.phone | Order_User_Phone |
| tag.order.user.cellphone | Order_User_CellPhone |
| tag.order.user.title | Order_User_Title |
| tag.order.user.address | Order_User_Address |
| tag.order.user.zipcode | Order_User_Zipcode |
| tag.order.user.state | Order_User_State |
| tag.order.product.name | Prod_Name |
| tag.order.product.quantity | Prod_Quantity |
| tag.order.product.quantity.decimals | Prod_Decimals_Quantity |
| tag.order.product.price | Prod_Price |
| tag.order.product.price.nc | Prod_Price_NC |
| tag.order.product.sum | Prod_Sum |
| tag.order.product.sum.nc | Prod_Sum_NC |
| tag.order.product.category.name | Prod_Cat_Name |
| tag.order.discount | Total_Discount |
| tag.order.discount.nc | Total_Discount_NC |
| tag.order.product.discount | Product_Discount |
| tag.order.product.discount.nc | Product_Discount_NC |
| tag.order.product.listprice.sum | Product_ListPrice_Sum |
| tag.order.product.listprice.sum.nc | Product_ListPrice_Sum_NC |
| tag.order.listprice.sum | Order_ListPrice |
| tag.order.listprice.sum.nc | Order_ListPrice_NC |
| tag.order.product.discount.percentage | Product_Discount_Percentage |
| tag.order.discount.percentage | Total_Discount_Percentage |
| tag.order.quantity | Order_Total_Quantity |
| tag.order.product.listprice | Prod_ListPrice |
| tag.order.product.listprice.nc | Prod_ListPrice_NC |
| tag.order.product.vat25 | Prod_Sum_VAT25 |
| tag.order.product.vat25.nc | Prod_Sum_VAT25_NC |
| tag.order.project.name | Project_Name |
| tag.order.project.quota | Project_Quota |
| tag.order.project.quota.nc | Project_Quota_NC |
| tag.order.project.startdate | Project_StartDate |
| tag.order.project.endate | Project_EndDate |
| tag.order.project.notes | Project_Notes |
| tag.order.listprice | Total_ListPrice_Sum |
| tag.order.listprice.nc | Total_ListPrice_Sum_NC |

Subscriptions
| | |
| --- | --- |
| Subscription ID | Agreement_ID |
| Subscription Description | Agreement_Description |
| Subscription Start date | Agreement_Startdate |
| Subscription End date | Agreement_Enddate |
| Subscription Invoice Start Date | Agreement_Invoice_Startdate |
| Subscription Invoice Start Date + 1 year | Agreement_Invoice_Startdate_Plus1Year |
| Subscription Renewal date | Agreement_Renewal_Date |
| tag.agreement.agreementrenewaldate.activity | Agreement_Renewal_Activity_Created_Date |
| tag.agreement.agreementnextorderdate | Agreement_Next_Order_Date |
| tag.agreement.agreementintervaltype | Agreement_Interval_Type |
| tag.agreement.agreementintervalperiod | Agreement_Interval_Period |
| tag.agreementDescription | Agreement_Order_Description |
| Agreement notes | Agreement_Notes |
| tag.agreement.agreementregistrationdate | Agreement_Registration_Datetime |
| tag.agreement.agreementmodification | Agreement_Modification_Datetime |
| Agreement Discount percentage | Agreement_Total_Discount_Percentage |
| Agreement Total value | Agreement_Total_Value |
| tag.agreement.value.nc | Agreement_Total_Value_NC |
| tag.agreement.value.vat25 | Agreement_Total_Value_VAT25 |
| tag.agreement.value.vat25.nc | Agreement_Total_Value_VAT25_NC |
| tag.agreement.order.value | Agreement_Order_Value |
| tag.agreement.order.value.nc | Agreement_Order_Value_NC |
| tag.agreement.order.value.vat25 | Agreement_Order_Value_VAT25 |
| tag.agreement.order.value.vat25.nc | Agreement_Order_Value_VAT25_NC |
| tag.agreement.order.listprice | Agreement_Order_Listprice |
| tag.agreement.order.listprice.nc | Agreement_Order_Listprice_NC |
| Subscription user name | Agreement_User_Name |
| Subscription user email | Agreement_User_Email |
| Subscription user phone | Agreement_User_Phone |
| Subscription user mobile phone | Agreement_User_Cellphone |
| Subscription user title | Agreement_User_Title |
| Subscription user address | Agreement_User_Address |
| Subscription user post code | Agreement_User_Zipcode |
| Subscription user state | Agreement_User_State |
| tag.agreement.products.tablestart | TableStart_Agreement_Products |
| tag.agreement.products.tableend | TableEnd_Agreement_Products |
| Subscription product name | Agreement_Product_Name |
| Subscription product quantity | Agreement_Product_Quantity |
| Subscription product price | Agreement_Product_Price |
| Subscription product price per item | Agreement_Product_Per_Item_Price |
| Subscription product list price | Agreement_Product_Listprice |
| Subscription product list price per item | Agreement_Product_Per_Item_Listprice |
| Subscription product discount | Agreement_Product_Discount |
| Subscription product discount per item | Agreement_Product_Per_Item_Discount |
| Subscription product discount (%) | Agreement_Product_Percentage_Discount |
| Subscription product total value | Agreement_Product_Value |
| Subscription product value with 25% VAT | Agreement_Product_VAT25_Value |
| Category name of subscription product | Agreement_Product_Product_Category_Name |
| Subscription products total value | Agreement_Product_Total_Value |
| Subscription product total value with 25% VAT | Agreement_Product_Total_VAT25_Value |
| Subscription product total discount | Agreement_Product_Total_Discount |
| Subscription product total discount with 25% VAT | Agreement_Product_Total_VAT25_Discount |
| tag.agreement.productcategories.tablestart | TableStart_Agreement_Product_Categories |
| tag.agreement.productcategories.tableend | TableEnd_Agreement_Product_Categories |
| Subscription product category name | Agreement_Product_Category_Name |
| Subscription product categoriy value | Agreement_Product_Category_Value |
| Subscription product categoriy value with 25% VAT | Agreement_Product_Category_Value_VAT25 |